Retail Cleaning Services
Your customers expect nothing less than a clean and sanitary experience when they visit your store. Maintaining those expectations and rising to your customer's standards requires a lot of effort and diligent work.
Bennett Building Services understands the ebb and flow of building cleanliness. We know that some days are better than others and some customers can have limitless expectations. We're ready to help you rise to the occasion every day. We design our comprehensive retail cleaning programs with your building, your budget, and your customers in mind.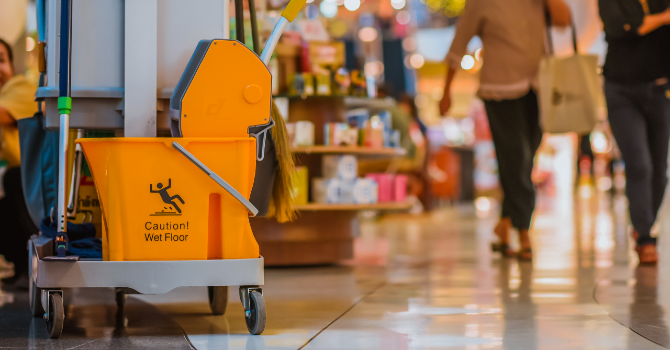 Restroom Cleaning
The last thing your customers want to find is an unclean and unsanitary restroom in your store. Dirty restrooms can seriously hinder your customer's experience and damage your store's reputation. Our Six-Step process restroom cleaning process is effective for cleaning, disinfection, and removing foul odors that come with a full day of use.
Dusting:

Removing dust and cobwebs goes a long way toward improving the appearance and Indoor Air Quality.

Sinks and Mirrors:

Our glass cleaning system leaves your mirrors clear and streak-free, w

e wipe down your sink bowl and faucet to remove and build up around the base of the faucet and drain.

Toilets:

We start by spraying with our disinfectant, w

e then wipe down the entirety of the toilets making sure we reach the entirety of the bowl leaving no impurities, w

e finish by using our bowl cleaner and scrubbing wand to lift and impurities

Toiletries: We make sure all soap, toilet paper, paper towels, and feminine products are properly stocked and available for your customers and employees to use.
Trash: Removing trash daily helps cut down on lingering odors.
Floors: Sweeping and mopping, starting from the back of your restroom and working toward the door ensure that all areas are properly cleaned and left totally fresh for your first customers the next day.
Disinfection and Sanitization
Shoppers are more cautious now than ever. They are aware of hyper-aware of surfaces and how often they are being cleaned and disinfected. Disinfection services have worked their way into the rotation of nearly essential cleaning solutions like floor and restroom cleaning. Increased demand for daily and weekly disinfection services has pushed us to improve our services to effectively manage the rising need for more and more disinfection.
We've tackled this rising demand by implementing several disinfection methods, each with its own use case.
Manual Disinfection: Our cleaner manually wipes down the intended high traffic surfaces and touchpoints and then applies a disinfecting chemical to the surface. It is then allowed to air dry for maximum disinfection.

Electrostatic Spraying:

High-touch surfaces are manually cleaned with an all-purpose cleaner to remove residue. The following spraying requires much less time and covers much larger portions of buildings.
Implementing more efficient spraying tech and improving our current strategies has helped us reduce service time. More quick and efficient cleaning helps us better serve our customers and keep prices down.
Floor Cleaning Services
A well-maintained floor sets a strong baseline for the entirety of your store. Bennett Building Services offers a variety of daily floor cleaning services that you'll need to keep your floors clean and clear of dust, dirt, and wet spots. Most buildings require the use of typical brooms, dustpans, and dust mops, but in larger facilities, we also use floor scrubbers to reduce service time. We utilize a variety of floor scrubbers to ensure that we're using a scrubber that works with your flooring.
We also offer a variety of floor refinishing services to help you restore your flooring. We work with our customers to create floor maintenance programs that work around your flooring type, hours of services, and most importantly, your budget. We offer to strip and waxing service, top scrub and recoat service, and buffing service. Our project crew will work with you to set up a time that works best for your building's schedule and will come in and work around your team.
Bennett Building Services is ready to help you get your flooring looking great and customer-ready. With a combination of daily cleaning and regularly scheduled floor maintenance, we can keep your floors as a clean and shining baseline for cleaning throughout your store.
Why Work With Bennett?
We are a trusted, locally-owned, and operated partner. Bennett Building Services takes pride in providing each of our customers with personalized care.
We use our practical experience to create new and better cleaning plans for our customers. Our commitment to high-quality service keeps us active in searching for and learning new and improved cleaning methods. These optimizations are passed to our customers through better service for affordable prices.
Professional, No-Hassle Service

Fast, Free Quotes

Cleaning Programs Designed Around LEED Standards

Locally Owned & Operated