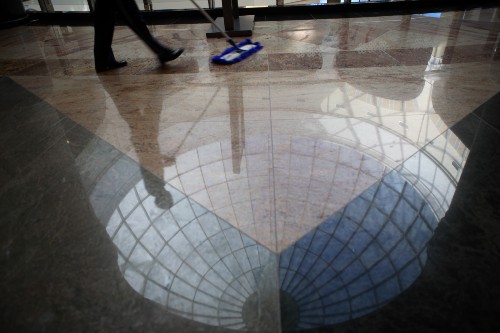 Floor Cleaning Services
Clean and shining floors make strong first impressions on your visitors. Whether your visitors be customers, prospective clients, or executives, the appearance of your building sends an immediate message to them about your business.
Bennett Building Services offers a full suite of commercial floor cleaning services from daily cleaning to floor refinishing work that will improve the appearance and overall cleanliness of your building.
Features and Benefits of Bennett Floor Cleaning
Safety First

-

Daily cleaning clears dust, dirt, spills, and debris from your floor that, left uncleaned, develop into trippisadng and slipping hazards

Easy to Clean-

Freshly refinished flooring is much easier to keep clean as the fresh coats of wax are smooth. Dust mops and brooms are able to more easily pick up dirt and debris left on your floor, resulting in better quality cleaning

Professional Shine-

Freshly refinished and well maintained floors simply look better

. Floor refinishing drastically improves the appearance and appeal of your building to customers, visitors, and employees.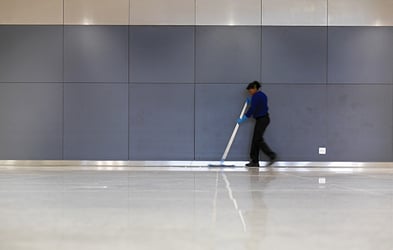 Daily Floor Cleaning
Daily floor cleaning is the best long term solution for maintaining frequently dirty floors. Daily cleaning includes sweeping, dust mopping, and mopping targeted at cleaning up the messes created by foot traffic after a long day of work. In factories, we can help your facility floor stay Free Of Debris.
Daily floor cleaning is built into our janitorial services contracts as it's a common service for many buildings. Our equipment features re-usable mop heads, dust mops and microfiber mops.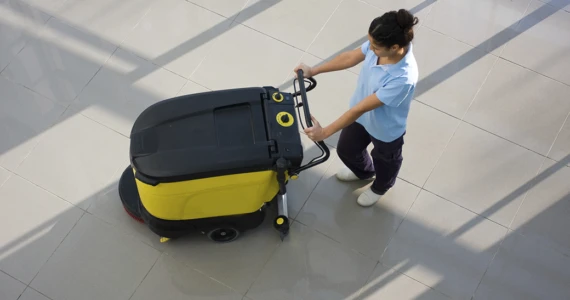 Commercial Floor Scrubbing
We use a variety of floor scrubbers to meet the needs of our varying employees. Utilizing these machines helps us to improve cleaning performance, and reduce cleaning time. This saves you money and headaches.
Our employees are properly trained to handle these machines during their training process. Our maintenance team will come out to your building to address fixes the scrubbers or to replace a broken scrubber when things go wrong.
Floor Refinishing Services

Burnishing
Burnishing is a deep clean that polishes the top layer of your floor and leaves a glossy, shiny finish. As with all of the cleaning services we offer, burnishing is a recommended service to improve and extend the shining quality of your flooring. We recommend this yto our customers as a regular maintenance measure to keep a high-shine floor. With a quality, high-speed scrubber our team can cover large areas in a relatively short amount of time. That drives down price and give yours floors that shining glossy finish.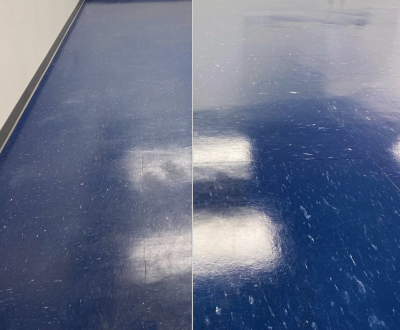 Scrub and Re-Coat
Top scrub and re-coating services remove the top of layers of finish and replace them with a couple of fresh coats of finish. We recommend this to our customers as a intermediate refinishing between full stripping and waxing projects.
Some benefits of more frequent top scrubs is extending the time between stripping and waxing. Regular maintenance also helps to keep a glossier finish for longer between full re-finishing. This option is cheaper than full stripping and waxing services as it takes less time and manpower.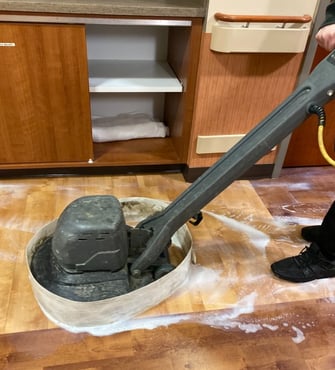 Stripping and Waxing
The final and largest floor refinishing service we offer, stripping and waxing removes all previous layers of wax down to bare floor and replaces them with several fresh new coats of wax. Stripping and waxing removes scuffs, scrapes, scratches and other blemishes that may have occurred since the last time your floors were serviced. Our returning customers generally request this as a yearly service, with bi-annual or quarterly burnishing or top scrubs.
As with our other floor refinishing services, we work around your schedule. While performing this service, the floors will be slippery. To offset this, we work in smaller chunks around your team to minimize slipping hazards and reduce our disruption to your employees and operations.
Our Team in Your Building
Our team of professional floor refinishing professionals work every night to satisfy the needs of our customers. When our team is in your building, we work around your employees and respect your space. Our goal is to always leave your building better than when we arrived.
We'll work with you to set up the best time of service, whether that be at night or on a weekend, or in the middle of the day on a Tuesday. The flexibility of our project team to work around your schedule is designed to minimize our disruption to your business operations as well as speed up the project for us.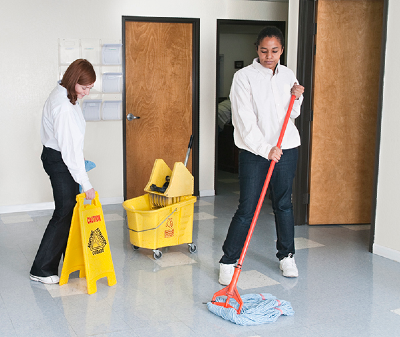 Why Work With

BBS

?
We are a trusted, local janitorial services company providing commercial cleaning and janitorial services for businesses in Columbus. Bennett Building Services takes pride in providing each of our customers with personalized care.
Professional, Hassle-free Service

Fast, Free Quotes

Designed around LEED Standards

Locally Owned and Operated.
Get your Free, Personalized Janitorial Services quote!