Medical Facility Cleaning
Bennett Building Services is ready to become your trusted partner for janitorial services. Our cleaning services are designed to deliver consistent, quality results that meet your needs each night.
We create individualized cleaning programs that help us deliver consistent cleaning services while keeping prices down. Our holistic cleaning approach delivers hassle-free, top notch service for your patients, staff and visitors.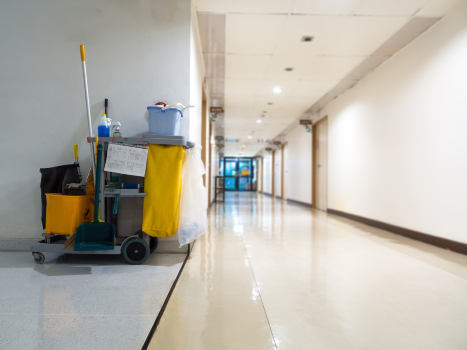 Our Cleaners in Medical Facilities
We understand the effort required to maintain cleaning standards in medical facilities. Your building are saddled with extra standards to ensure the health and safety of all who enter your facility. Whether you need daily janitorial services or just a touch up on your current flooring, Bennett Building Services has the services you need to keep your building up to code.
Each of our cleaners receives training before ever stepping foot in your building. Employees are given training for bloodborne pathogen cleaning, pandemic cleanup and disinfection, and long term healthcare cleaning. Understanding these cleaning procedures prepares the cleaner to deliver the services you need. By administering initial training and on-site training with a manager, our cleaners are put in the best position to succeed in your facility.
Disinfection Services You Can Count On!
Surface disinfection targets germs and viral pathogens where they live. We've developed our disinfection service offerings throughout the coronavirus pandemic to better serve our community. We offer a variety of disinfection methods to get each of our clients their desired outcome. We offer hand cleaning and disinfection for high traffic touch points as well as area disinfection with misters and electrostatic sprayers. We've also helped our customers successfully implement new disinfection programs that have allowed them to resume in-person work.
While many of our medical facilities had cleaning and disinfection plans in place before the Coronavirus pandemic, we've adjusted our disinfection services for medical facilities to more effectively handle this new set of challenges. We're implementing these services in a wide variety of the buildings we clean, among many different industries.
Why Work With Bennett?
We are a trusted, locally-owned and operated partner. Bennett Building Services takes pride in providing each of our customers with personalized care.
We use our practical experience to create new and better cleaning plans for our customers. Our commitment to high-quality service keeps us active in searching for and learning new and improved cleaning methods. These optimizations are passed to our customers through better service for affordable prices.
Professional, No Hassle Service

Fast, Free Quotes

Cleaning Programs Designed Around LEED Standards

Locally Owned & Operated